The finest quality digitally printed light pole banners and more
Specializing in large vertical format banners, Kalamazoo Banner Works (KBW) has earned a reputation for delivering the highest quality light pole banners available. The KBW brand is recognized around the world, due in part to it being the first banner company in the United States to sell street banners worldwide. Known for its vivid colors, extreme durability, and ease of use, KBW offers a massive selection of stock designs, as well as the option to customize and create your own banner with the help of our in-house graphic design team. If you're looking to generate buzz for a campus-wide celebration, a city-wide festival, or any other event imaginable, there's no surer way than with the help of KBW light pole banners.
Benefits of our light pole banners
Hundreds of stock banners
Custom banners can be designed
Durable and long-lasting
2-year warranty on marine acrylic banners
1-year warranty on vinyl digital banners
Worldwide shipping
Congratulations class of 2020
Our high school seniors are missing a big part of the "Senior Experience". Here's an idea that is taking hold across North America to help them celebrate. "Avenue banners" with congratulations messages for your particular high school, that can even have individual student photos or perhaps just photos and logos of the school.
These "Ready-To-Print" designs are a way you can start, with you providing photos that we  insert. Or let us design entirely custom banners with your input, photos and logos.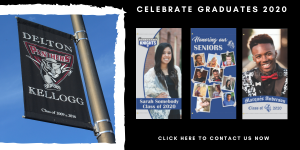 Kalamazoo Banner Works – 2021 Ready To Print Complete Catalog